News - Sick teacher in Hunan negative for H5N1: WHO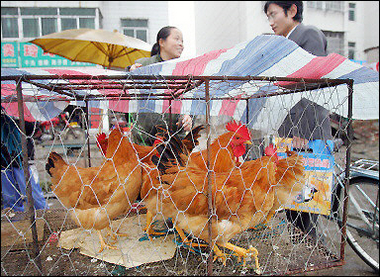 Blood tests on a schoolteacher who fell ill in Hunan Province that suffered a bird flu outbreak show he doesn't have the virulent H5N1 strain of the virus, a World Health Organization official said Wednesday.
The teacher lived in the same central county as a 9-year-old boy who was one of China's first human cases. The boy's 12-year-old sister, who died, was a suspected case.
"Based on an extensive range of blood tests, he's been excluded as a case of H5N1," the virulent strain of the disease, said Dr. Julie Hall, an infectious diseases specialist for the WHO's Beijing office.
A woman who died in eastern China was the country's first confirmed bird flu fatality.
The 36-year-old teacher fell ill after chopping raw chicken, according to the government. He lived in a county in Hunan province that suffered one of China's first bird flu outbreaks in the recent series of cases.
Sick teacher in Hunan negative for H5N1: WHO