News - China confirmed three new bird flu outbreaks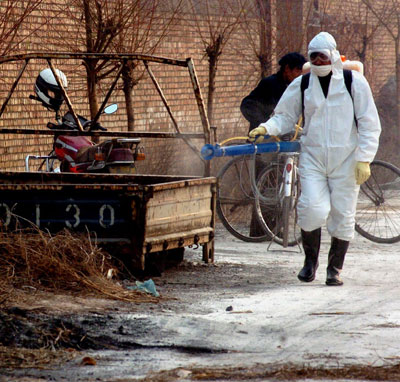 Ministry of Agriculture yesterday confirmed bird flu outbreaks in Northwest China's Xinjiang Uygur Autonomous Region, Northwest China's Ningxia Hui Autonomous Region, and Southwest China's Yunnan Province.
It said in a statement that 38 fowls died last Wednesday in the Dabancheng District of Urumqi in Xinjiang. A State avian flu lab confirmed that they were highly pathogenic bird flu cases.
A health worker sprays disinfectant at a village in Xiaoyi, North China's Shanxi Province November 20, 2005. The region reported a bird flu outbreak last week.
Meanwhile, the same kind of bird flu killed 2,500 poultry in Chuxiong of Yunnan on Thursday.
The disease also killed 230 poultry on Thursday in Yinchuan, capital of Ningxia.
The Ministry of Agriculture has sent teams of experts to help control the disease, and local veterinary departments have culled the poultry within 3 kilometres of the affected area. They have culled 8,388 fowls in Xinjiang, 99,400 in Yunnan, and 66,800 in Ningxia, according to the statement.
China confirmed three new bird flu outbreaks